Mining & Industrial
Tanks, Thickeners, Cyclones, Rakes, Piping & Pumps
Chemical Production & Power Generation
Tanks, Evaporators, Condensors, Pipes & Agitators
Waste Water Filtration
TBelt Filter, Drive Pulleys and Rollers
Shop Services
Rubber Lining, Rubber Molding, Urethane Molding, Polyurea & Fabrication
Precise, On Time and Dependable
Valve & Pump Lining
Diaphragm, Plug, Butterfly
Field Services
Rubber Lining, Polyurea Spray Coatings, Hydroblasting & Lining Repairs
Safe, Professional, Honest
Food Processing
FDA Rubber Lining, Pinch Valves & Rollers
WELCOME TO VULCAN PRECISION LININGS
Vulcan Precision Linings is a highly experienced, precision rubber lining and industrial coating company.  We specialize in protecting a wide variety of industrial parts and equipment against impact, abrasion, and chemical attack, using various rubber types and other coatings (i.e., polyurea, and molded ceramic-infused rubber panels).  Vulcan works primarily with the mining and chemical industries that specialize in extracting gold, copper, phosphates, and precious or rare earth minerals.
Vulcan lines new parts and equipment, but we can also repair existing linings, or remove old linings for replacement.  Plus, we offer custom compression rubber molding using your mold, or one we custom design to your particular specifications.  We operate out of our Salt Lake City, Utah facility and at customer locations throughout North America.
Our President, Engineer, Foreman, and Field Supervisors have over 130 years of combined experience in various rubber lining applications and process improvements.  With our in-house design and engineering services, troubleshooting a solution to your specific needs will take the headaches and guesswork out of your next project.
If you require rubber lining or field repairs, rubber molds, or polyurea coating, Vulcan Precision Linings is the only logical choice.  Give us a shout out; we'd love to give you a free quote.  You'll find that our integrity, diversity, quality, safety record, on-time delivery,
and caring customer service, sets us apart.
We're BROWZ compliant!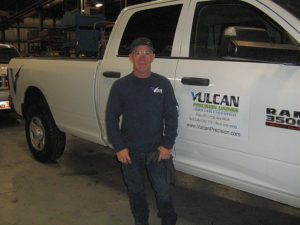 I would like to recognize Henry Mortenson and congratulate him on his 9th year work anniversary with Vulcan Precision Linings.  Henry started in 2009, but has been in the industrial-coatings industry for over 35 years, working alongside me for 30 of those years.
As a Master Craftsman Rubber-Layer, Henry is not only invaluable in the shop, but a huge asset when leading crews in the field, and customer support.  Our customers trust that Henry and his crew will get in, do the job right the first time, and get out, using as little downtime as possible, leaving only a great job behind.
I appreciate Henry's paramount concern for safety, and his willingness to accept new duties and responsibilities over the years. Congratulations, man!  I'm proud to not only call you my friend, but to have worked alongside you all these years.  Thanks for standing with me during the purchase of the company, and for your hard work, dedication, and loyalty!
---
We are hiring! Click on the Careers Tab for more information, and to complete our on-line application. Vulcan is a great place to work;
come join our team!
Here's what we offer:
Starting pay is 15.00 an hour or D.O.E, plus $3.00/hour "field rate," while working out-of-town
Per Diem is paid while working out-of-town
Overtime pay for hours worked over 40 hours per week
Typically work four ten-hour days
Following a 60-day probationary period, receive paid Medical and Dental benefits for the employee and their family,
and paid time off for accrued vacation and holidays